Health And Wellness Solutions

Massage • Acupuncture • Wellness Counseling • Pilates •
Social Work • Nutritional Consultations • Physical
Therapy • Yoga • Health Screenings •
Spa Treatments • And More…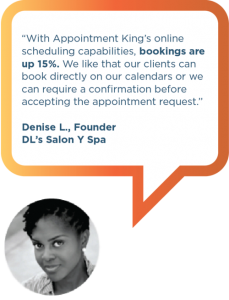 For anyone managing or owning a professional health and wellness facility, scheduling is critical. Staff members are the lifeblood of any successful health and wellness enterprise and it can be difficult to keep track of all of your employees. With Appointment King, scheduling your staff members' appointments is as easy as adding the names; within a few clicks, the schedule is complete. Each employee will only view the appointments that directly pertain to him or her, reducing confusion and streamlining the appointment scheduling process.
Some benefits of Appointment King include:
Instant Access to all employee appointments.

Time-saving design

Increase show rates

Ability for clients to schedule appointments themselves

Lowered risk of over scheduling
With Appointment King, your clients are allowed to schedule appointments based on their availability. The Appointment King design allows you to:
Track your clients' appointments

Streamline operations  

Data collection

Send email reminders

Track appointments; even over multiple locations
Leaving all of the proprietary control up to you and your staff, while providing exceptional customer service opportunities, the seamless design and user accessibility makes Appointment King the premier online scheduling tool. To experience the time-saving advantages of Appointment King, please take a moment to schedule a free demo and an informational walk-through with one of our representatives.  
So for the ultimate in online health and wellness appointment scheduling, choose the advanced design of Appointment King. Save time, save money and provide the best patient care available. Your employees and clients will benefit from the increased stability of a streamlined appointment process. Don't wait, try Appointment King for health and wellness today!