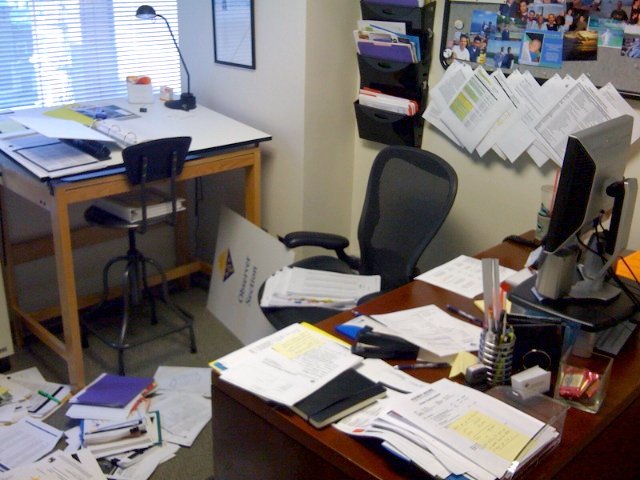 What part of your job makes you feel stressed? Is it that you don't have sufficient time in the day to finish your tasks or to achieve your goals? Consider your answers carefully. If you find yourself strapped for time in the workplace, you need to take a serious look at your time management skills. You have to be organized in order to keep pace with a busy office.
Some Ideas

You could get an appointment management system downloaded to your mobile phone. You could take the traditional approach by creating a 'things to do' list and sticking to it. You could change your sleep time and go into work earlier, which may not be a good idea all the time, if you have a household to take care of and if you are not getting enough sleep as it is.
Sticking to the Script
You may not be able to keep up with the apps or the lists. So, those two suggestions may not be good for everyone. If you are not motivated to use a downloaded app or stick to the script of a 'things to do' list, then you are just not going to do it. This defeats its purpose and you may have to take a look at the big picture first. Consider the reason for the importance of time management and what it means to your job. Begin your observation by assessing the reasons that time management is so crucial.
Limited Time
No matter what you do, you only have twenty four hours in one day. However, there are employees who are not able to accomplish as much as another employee in the same time frame. If you want to move up the ranks, then you have to come to the realization that time is limited and has to be managed well. You cannot get back the last hour that you lost. To stay organized and focused, you have to make use of the time and the resources available to you.
Plan Wisely
Did you know that you can achieve more work without making that much effort? However, you have to plan your time wisely, remaining focused on the most important tasks that need to be done on a particular day, especially if you have deadlines to meet. With effective time management, it is a guarantee that you will reduce the pressure that work brings. An organized desk will ensure that you are always calm to deal with unexpected events that may crop up at one time or the other.
Take Some Free Time
Take time away from your desk to reflect and relax. Every employee deserves free time or breaks. That is why the employer is mandated to give you an hour or less lunch time off. Take short breaks when necessary.
Conclusion
You have to be self-disciplined to maintain good time management skills. Procrastination is the enemy of time management. So be sure that you are on task at all times. Time management is a valuable skill that you cannot choose to ignore, whether in your personal life or at work.